A few weeks ago, in an uncharacteristic move because I hate pain, I engaged in a conversation on Facebook about sleep training. It was in response to an article basically saying how sleep training does not harm baby brains, or whatever, which I believe. Great cool whatever.
But the thread degenerated (AS THREADS DO) into a discussion about "data" and "science" and this and that the other thing, referencing and quoting and linking, everybody attempting to "prove" their position as "right" and good and valid and BACKED BY SCIENCE.
There is one reason I've never sleep trained my kids: Because it's never felt right.
Period.
That's it. That's the extent of my insight on the topic.
And that is enough.
 I don't care what you do. Do what feels right in your gut. We don't all have the same guts, so it makes sense that what feels right to us would vary.
This is enough for me, and ultimately it always has been, but I wonder sometimes when we as parents learned to trust 3rd party "experts" more than our own observations, feelings and experiences. I have heard of mothers crying outside their baby's door grasping a timer, waiting for the 1-hour mark to be up so they can go in and get their baby. They read it in a book. It's supposed to work.
I have seen mothers killing themselves to adhere to "attachment parenting" rules, terrified they'll obliterate their child's chances at happiness if they put them in a crib.
I have an idea: If it doesn't work, how about we stop doing it?
If you feel every compulsion to not let your baby cry, don't let her cry. If you need your baby out of your bed, get him out of your bed. If nursing isn't working any more for either party, stop. Or keep going. Keep going until it doesn't work any more.
Fuck the books. Fuck the experts. Fuck em all.
There are hard things in parenting: Keeping boundaries. Watching your kids suffer the natural consequences of their mistakes. But these things are right. They feel right. They are hard, but necessary.
Neither sleep training nor co-sleeping is fucking "necessary." Those are matters of preference. Learn the damn difference, world.
Hey moms: You are enough. You know enough. It all passes eventually. I don't mean this is some kumbaya bullshit way. I mean it seriously. We all have the capacity to assess what's working in our lives and not. That's kind of what being an adult is, right?
Except with parenthood. With parenthood you need to believe strangers. THEY KNOW BETTER FOR YOU. (They've convinced us of this because $$, people. MONEY. The more desperate parents become for "answers" the more stripped of their own confidence to make decisions for their families – the more they'll pay for guidance.)
I tried to "sleep train" Arlo once. He was 10 months old and nursing all night and driving me batshit. I was determined to do something new.
After 20 or 30 minutes of crying I went over to the crib and put my hand through the bars onto my baby's cheek. I felt the wet of his face, the frantic gasps and tiny shakes. The heat of his body. He calmed a little. I removed my hand and he wailed again.
I put my hand back on his cheek. His chubby little hand shot up and pressed mine against his face as hard as his little baby arm could push. His dimpled palm against my hand, holding me there almost desperately, or so it seemed.
I said "FUCK THIS" out loud, scooped my baby up and took him back to bed with me, said "Mac we're not doing this, just come to bed."
And as I laid there and nursed him and felt his quick little post-crying breaths smooth out back to the peace we both knew, I knew I would just hang out here in messed-up sleep land until a new reality surfaced.
Because a new reality always, eventually, surfaces. That's what I've learned in 14 years of motherhood. It's all temporary, though it doesn't seem so at the time.
The co-sleeping thing wasn't really working, but it worked better than whatever the fuck that was.
So yep, I didn't sleep train my baby because he pressed his hand against mine.
And that's enough.
Mac said "You know Janelle we'll never regret them being in our bed. We may regret kicking them out."
And he was right, for us. For our family. For the way we do family. That's how we roll. And it's cool. We get by. We get through.
Shockingly, despite this rampant co-sleeping, we have kids who sleep without issue and don't burn puppies.
Sometimes they all sleep together on the floor, and often two are crammed together on a twin bed, and even more often all three kids are in the same room in bunk beds, but I'm unsure where the problem is there. Humans who enjoy human closeness? OH THE HORRORS.
Clearly, kids learn to "self soothe" even if you don't teach them shit about "self soothing" (at least not on purpose).
THE BOOKS LIED. Turns out you don't have to "train" kids to sleep well. Or maybe cosleeping is good "training" too.
Whatever.
About a month after our experiment, Arlo suddenly started nursing once a night instead of 14,897 times. The problem resolved itself. Can you imagine?
It was temporary.
It's all temporary.
Four kids who sleep and don't burn puppies. Winning, motherfuckers.
Yesterday I was fidgeting with my houseplants and started thinking about how we treat plants. When we bring a new one home, we read the label to learn what sort of light it likes, how much water, etc. And we make all kinds of choices the best we can, given what we know. But if the leaves change color or fall off or it isn't growing well, we change things up.
We move it to a new spot. More light. Less light. More water, less. Maybe we repot it.
We may try 4 or 5 spots in the house, a couple different watering patterns. Maybe we read about the plant, Google it to see what other people suggest.
But ultimately, we trust the leaves. We trust our eyeballs. The plant is thriving or it's not. It's healthy or it's not. Our efforts are working or they're not.
We never think to ourselves "This plant is defective because it isn't thriving in the spot Google SAID IT SHOULD THRIVE." We don't just keep forcing a certain arrangement because it "SHOULD" work. We can see plainly that it isn't working. Who cares what the plant book says?
Maybe this is a freak plant. An anarchist plant. Maybe this plant has zero fucks to give. But it's ours. We committed to it. We do what we can.
Ultimately we don't really care why it isn't happy, right? We just respond. We see our job as an arranger of externalities, of things we have control over, to create an environment in which the plant can thrive. We know it can. We never doubt that. We know it has within it everything it needs to become its best self. A healthy vibrant thing.
I wonder why we don't do this with kids. I wonder why we don't just trust our eyeballs. Is it working? Are the leaves falling off? Is it droopy?
Are we droopy? Are we not thriving?
And if the answer is "yes," why don't we try something new? Change it up? Give it a shot and see what happens.
Trust that within us we too know what we need, what our kids need, or at least realize we are the "experts" on our own damn families, and we don't need data or facts or books or articles to back our game. And trust that our kids have everything THEY need to thrive, if given the right environment. We have everything we need to provide that environment.
We've got giant green leaves, deep hungry roots, a yearning for sunshine and each other.
And that's enough.
So hey there mama. For what it's worth, I'm here to tell you that your no reason is enough. A tiny baby hand rested on yours is enough. The simple realization of "this isn't working" is enough.
You don't need my validation. I don't need yours.
But it feels right to give it anyway.
Just like this morning, when Arlo woke up, crawled over, and did this.
If it works, I ain't fixin' it, no matter how many books insist it's broken.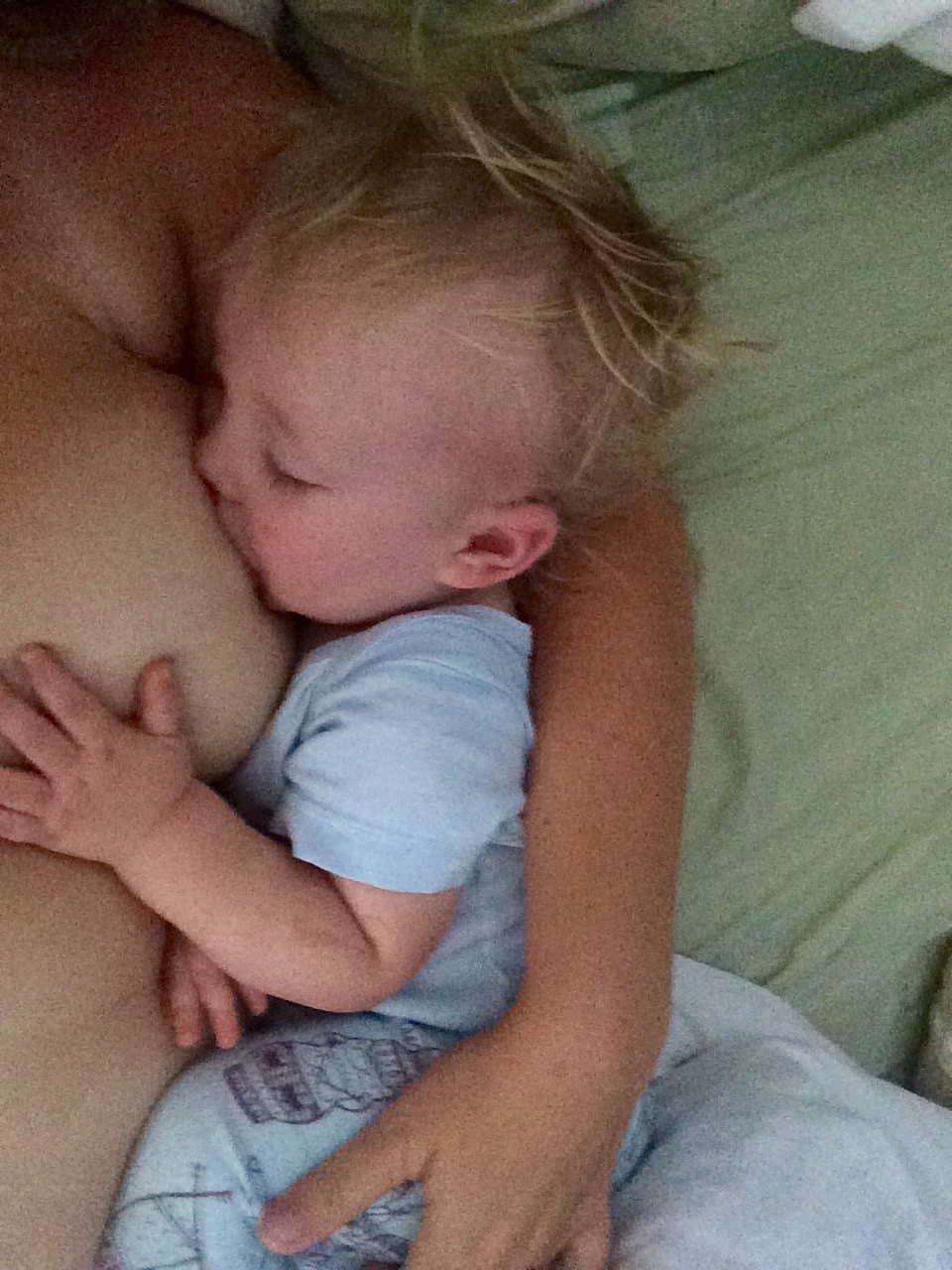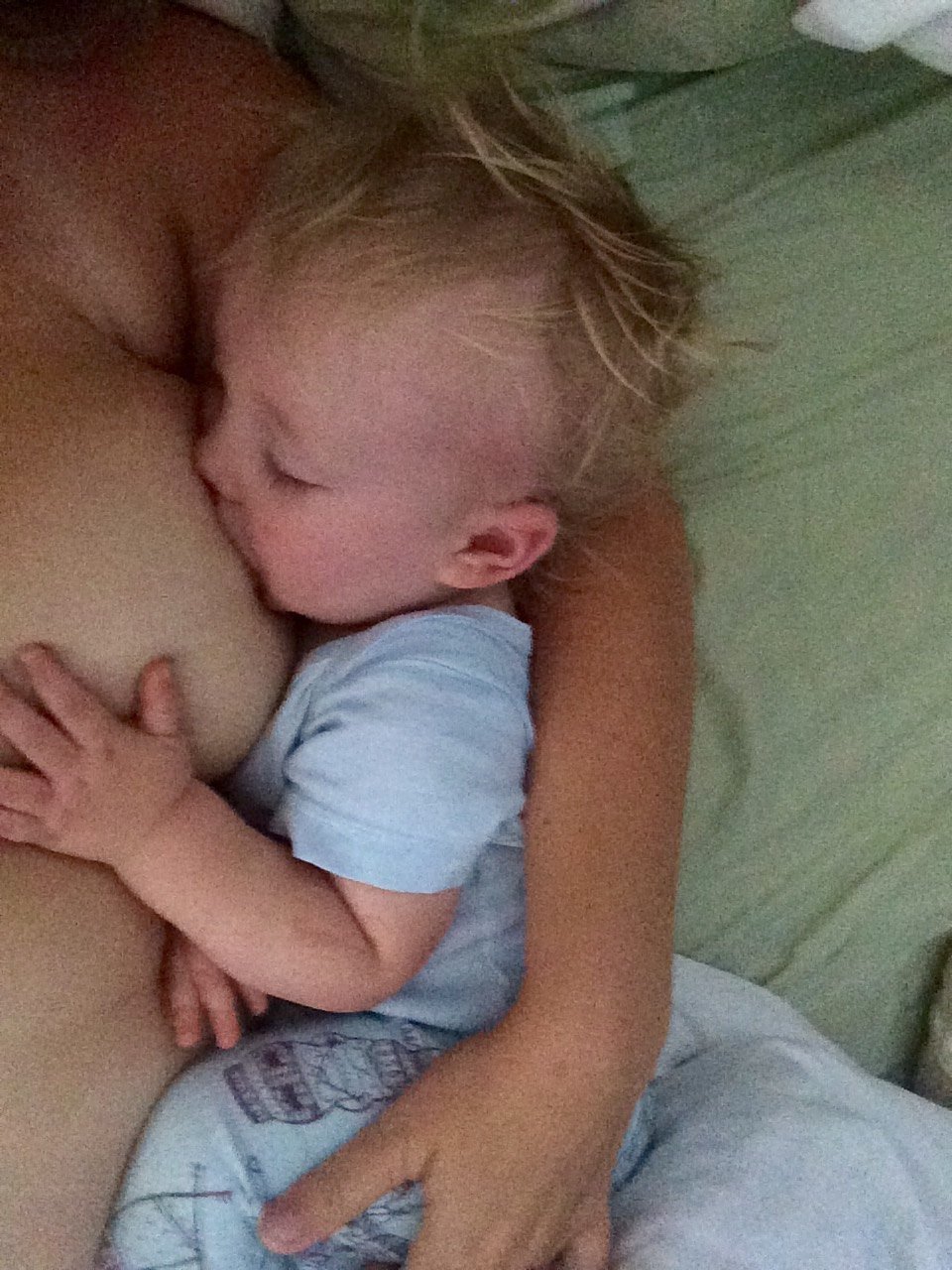 more stuff I shouldn't have said out loud: