So, Amanda. I read your article in Elle about what you eat every day and I just wanted to thank you for offering so many creative and reasonable ideas for my working class family of six.
I can't wait to announce to my children that we will be eating bee pollen for breakfast tomorrow after meditating and doing a 23-minute breath set.
Wanted to ask you though, what exactly is a "breath set?" And why 23-minutes? Are you breathing in a special way for 23 minutes? Why not 24? Or 22? I fear my 14-year-old, being something of a skeptic, may wonder why the fuck we're doing a breathing thing for precisely 23 minutes. I'm sure you have your reasons though. Your eyes and draping white linen shoulder wraps tell me you are very, very deep. I'm sure you've "done your homework" with your "go-to yoga" teacher over there in Venice, appropriating Eastern spirituality like a motherfucker!
I try. But I live in a central valley town with a bunch of working-class people. It's so hard to find enlightened people here. I have to really seek out people eating maca doing Kundalini yoga in head-wraps (I noticed them on your yoga place's website. Can I get one on Etsy?).
I wish I were you. I'll just follow you on Instagram and yearn.
I'm so glad you mentioned that you drink your "morning chi drink" "in the car!" That really leveled the playing field between you and me, made you so accessible and real. I'll admit, I felt a little distant when you mentioned cordyceps, reishi, maca, and Shilajit resin, because, you see (I'm ashamed to admit), I've never seen those things at Costco and thought for a second maybe you and I aren't the same, but when I found out you too consume beverages in the car, I realized you're just another busy mom like me, trying to balance it all while achieving enlightenment through white New Age classism.
What a leader you are!
A light in a dark world. In fact, in that photo of you, the light seemed to actually go through you, as if you were an angel. Are you an angel? Or maybe you are in fact, MOON DUST. Like the name of your juice bar. Moon Juice by the woman made of Dust. OMG how CUTE!
I bet you have hundreds of thousands of followers on Instagram. You're so inspirational. Whenever I'm in doubt, I'm going to gaze at your bright face and know how good life could be for me, if I could just figure out how to spend $700/day on "seaweed salad with micro cilantro and daikon, and a delicate broth of mushrooms and herbs."
I tend to eat chicken for dinner.
I should probably be put to sleep.
Also, yesterday, I let my 20-month-old eat Skittles in his high chair so I could take a shower in peace. I never do that. Usually I feed him blueberries, his favorite thing. Have you heard of them? Excessively pedestrian food, I know, but still, he likes them.
Anyway I didn't have any blueberries, so I let him eat Skittles. Lots of red dye. I feel terribly guilty now. You would never do that, would you, Amanda? Do you think there's still hope for me? Do you think if I really work hard I can eat zucchini ribbons and pine nuts as an actual meal as opposed to a side-dish of questionable validity?
Which reminds me, what's your sweet little Rohan's favorite food? I mean, when he's not requesting vegan restaurants on Abbot Kinney in Venice, what does he like to eat?
Activated cashews? What about regular ones? Do non-activated cashews count? DO NON-ACTIVATED CASHEWS HAVE ANY PLACE ON THE PLANET AT ALL?
You're such a wealth of knowledge, Amanda!
You also mentioned that "your version of a taco" is "a nori roll with umeboshi paste, avocado, cultured sea vegetables, and pea sprouts." This confuses me a little, because where I come from, a taco involves a tortilla, and some sort of meat. Have you ever had tacos al pastor? Asada? I guess not. But then again, your version is "probiotic-rich with the cultured veggies, and deeply mineralizing thanks to the sea vegetables."
Well, shoot. Guess that means no more carnitas for me. But wait.
Have you ever been to a taco truck? You say your seaweed taco is "deeply satiating" but I fear perhaps you haven't experienced "satiating" on the level I have. Have you ever had some tacos al pastor with corn tortillas and onion and cilantro and lime on top, sold right there out of the truck?
I just don't see how pea sprouts can ever compete with motherfucking carnitas, Amanda. HAVE YOU EVER HAD A FUCKING TACO TRUCK TACO BECAUSE I FEAR YOU DON'T UNDERSTAND WHAT WE'RE DEALING WITH HERE WHEN WE TALK ABOUT TACOS.
Sorry.
I get carried away. I love tacos.
I'm okay now.
Alright, so, now that I know how smart enlightened rich white millennial females in Los Angeles eat, I can move forward with my life in a remarkably more productive and healthy and spiritually sound way.
Big thanks to you and Elle magazine for really having your finger on the pulse of what matters. Really right at the heart of relevance here. No other magazines are posting your daily regime. Why? Because they don't know what matters.
One more thing though: Did you notice your last name is "Bacon?"
You might want to check that out.
I fear it's an insult to the BEST FUCKING THING IN THE ENTIRE FUCKING WORLD THAT ROHAN PROBABLY WANTS TO EAT INSTEAD OF OLIVES STEEPED IN LIFE-AFFIRMING WATERS OF HIMALAYAN GODDESS MOUNTAINS OR WHATEVER THE FUCK YOU EAT.
Sorry. Again. I think my mind is a little whacky from the boxed brownies I ate yesterday during the Superbowl. I think I could actually feel myself getting less intelligent as each processed butter-laden sugar ball entered my bloodstream.
Maybe I'll make some chia almond pudding with my kid instead, to be like you, and feel hope.
Activated cashews, delicate hands, and copper cups for all!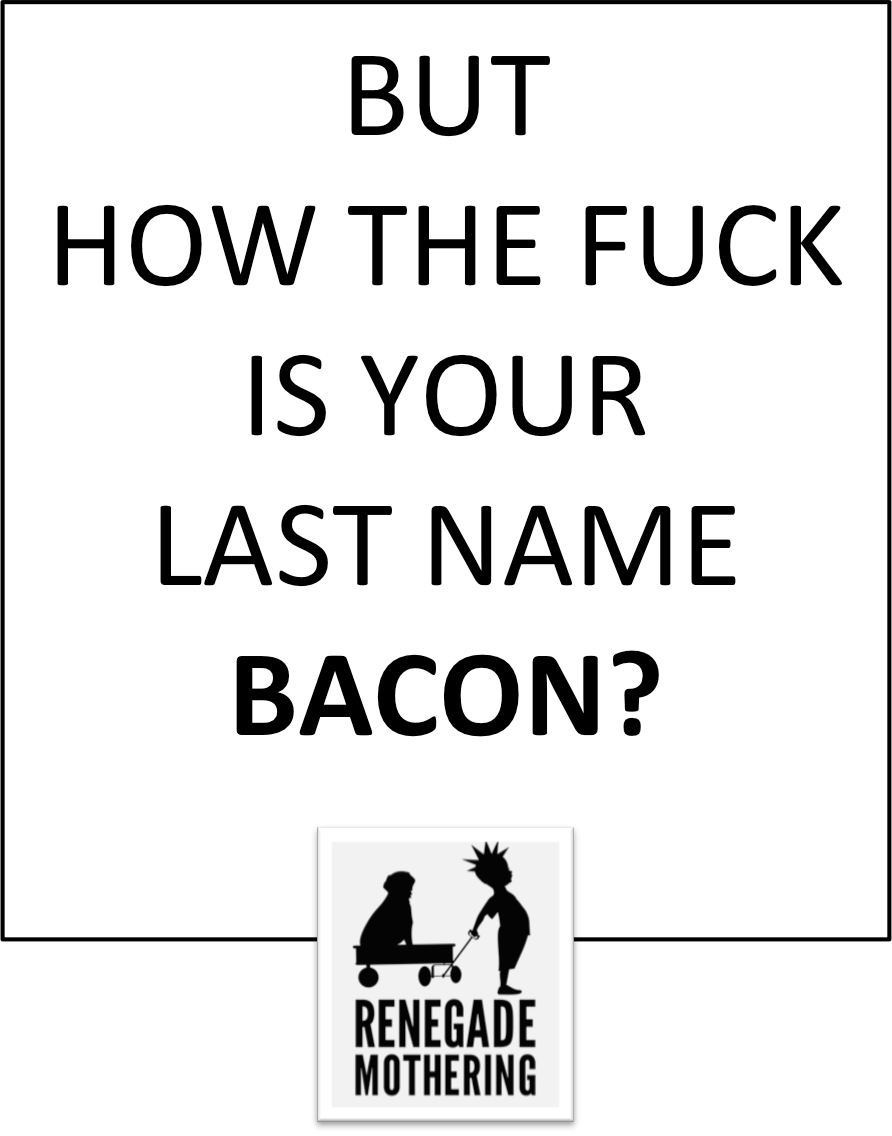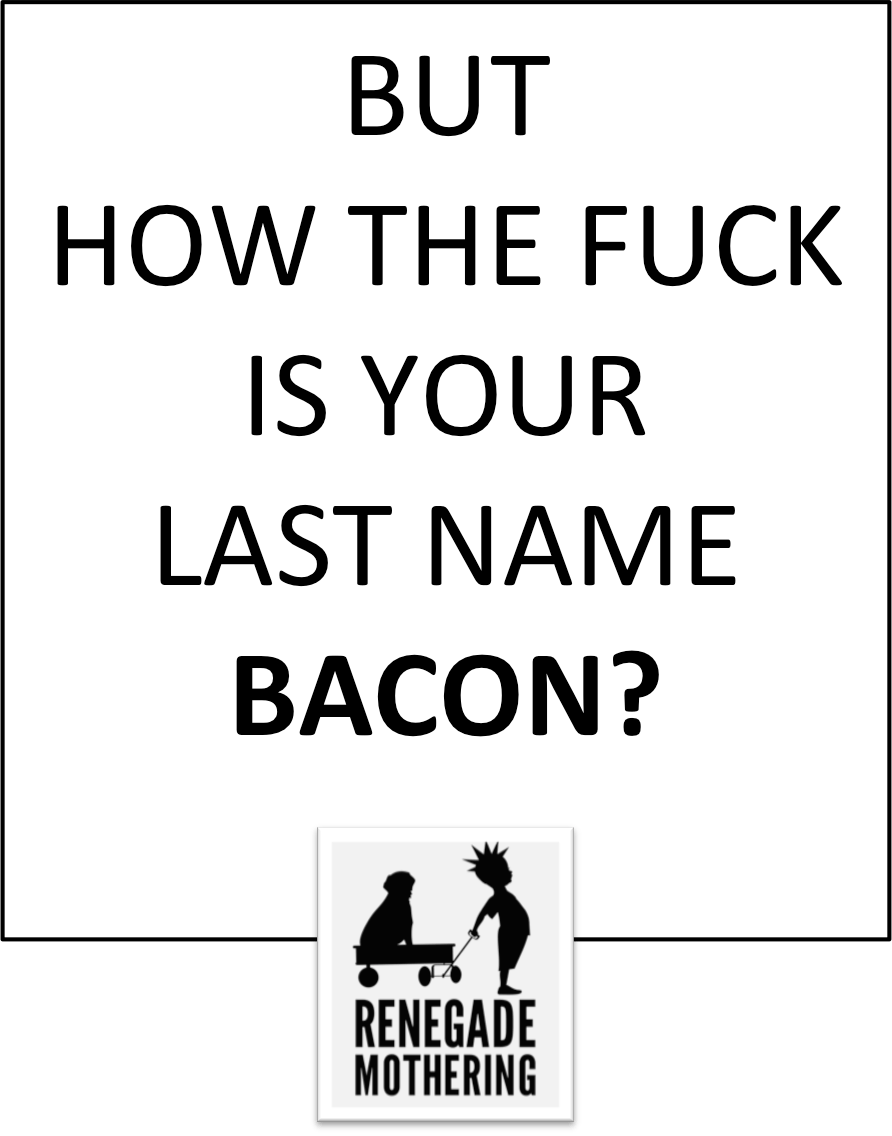 more stuff I shouldn't have said out loud: