We have got to talk. We have got to talk about the way motherhood is so often depicted as this sanctimonious martyrdom of hell in which formerly interesting and intellectual humans are reduced to snot and cereal.
This is the situation, partly. There are phases, particularly when children are in their infancy, when life seems to become nothing more than poop and milk and laundry peppered with zombie exhaustion, existential crises, and a lurking notion of "wtf has my life become?" (Clearly hyperbole remains intact, however.)
And there was absolutely a part of me that mourned my old self after I had my first child. I knew I would never be wholly the same, attached as I was, suddenly and irrevocably, to another human being. I could never walk away. I could never not be "mother."
And that is heavy.
But it wasn't the end. Motherhood is not the end of me and it never has been. I thought it was for a minute there, but I was wrong. My kids didn't erase me. My kids didn't turn me into a shadow of my former self. Yeah, I'm not out drinking fifths of Jack Daniels in Barcelona in my crop-top and mini-skirt, but ummmmmm, I'm also 37. Many of choose to change it up a bit around age 30. My husband and I aren't frequenting bars and shooting pool in between shots we bought for our best friend Charlie who we met 10 minutes ago, but we're also kinda old and tired and Netflix is calling.
We could still be doing this, but we aren't, because our lives and values have changed, partly because we have kids, partly because we don't find that stuff super fulfilling anymore (was it ever?). Also I'm an alcoholic but I digress.
The point is that motherhood was not the end of my personality, character, or identity. It wasn't the end of my intellect and creativity and sarcasm. I still say fuck. I still like my music. I still like sex. I like movies and politics and critical theory. I like debating shit with people. I like getting fired up and thinking about things, and I like my husband. As a friend and as a lover. I like going places with him. I like to flirt with him. I like to swim in rivers and camp and write the shit out of things.
Even when my days are diapers and my nights are nursing, even when we haven't had sex in way too long, even when my waking hours are finding shoes and washing dishes, even when kid voices drown out all the things forever, I AM STILL IN HERE.
Do not for a second erase me.
I like my friends who don't have kids. I like my friends who have kids. I like going on girls' trips and watching them get naked in hot tubs and smoke weed.
What is wrong with that? Nothing.
And there's nothing wrong with women making other choices. SAHM, working mom, by choice or force, whatever. And maybe life has become a seemingly endless cycle of mundane tasks. We've all been there. But to me, that seems temporary, and I am sick and TIRED of this narrative that motherhood requires erasure of the self. Who the hell came up with this anyway?
And why isn't it assumed that men disappear as individuals when they become dads? I don't see too many men apologizing for becoming devoted and loving fathers. In fact, pretty sure we CONGRATULATE THE CRAP out of them for that sort of thing.
But more importantly, I DON'T SEE THIS WHEN I LOOK AROUND AT MOTHERS.
What I see is a bunch of fiercely powerful, badass humans – whether they are "stay at home moms" or not. I see artists: writers, painters, directors, knitters and bakers. I see pissed off feminists and fierce advocates for gender creativity. I see women of color fighting for the lives of their sons and daughters and I see doctors, lawyers, yogis and fat women in bikinis, sexy as hell and owning all 40 years of their beauty. Every motherfucking inch of it.
I see home-schoolers and friends and homemakers and executives. I see women creating businesses from their crafts and talents and heart, rockin' PTA meetings and preschool events and women leading children on their paths to whoever they were meant to become: fighters and lovers and truth-sayers and storytellers. I see wickedly funny women who call out bullshit faster than you can say "Caillou is the spawn of Satan."
And yet, they write us like we're nothing. They write us like we're sad little shells. They write us like we NEED TO BE APOLOGIZING TO OUR HUSBANDS FOR NOT MEETING THEIR NEEDS PERFECTLY.
Hey, the 1950s called. They totally want their rhetoric back.
Lemme tell ya something: WE GET TO DEFINE MOTHERHOOD HOWEVER THE FUCK WE WANT. And we get to do so unapologetically and locked in solidarity with all the other mamas out there who are like SURE I'M WIPING YOUR ASS ALL DAY BUT I DON'T LOVE IT and I'M IN HERE SOMEWHERE ASSHOLES.
And that's the thing, really: I don't buy that we're gone. I don't buy that we are really gone. I don't buy that we curl up to the size of a sippy cup and wait for the years to pass.
We are powerful as we ever were, and I, for one, will never let you forget it.
And if you feel erased, mama, check it out: I see you. What you are, what you once were, and what you are still.
This is motherhood.
This is us.
We get to own it.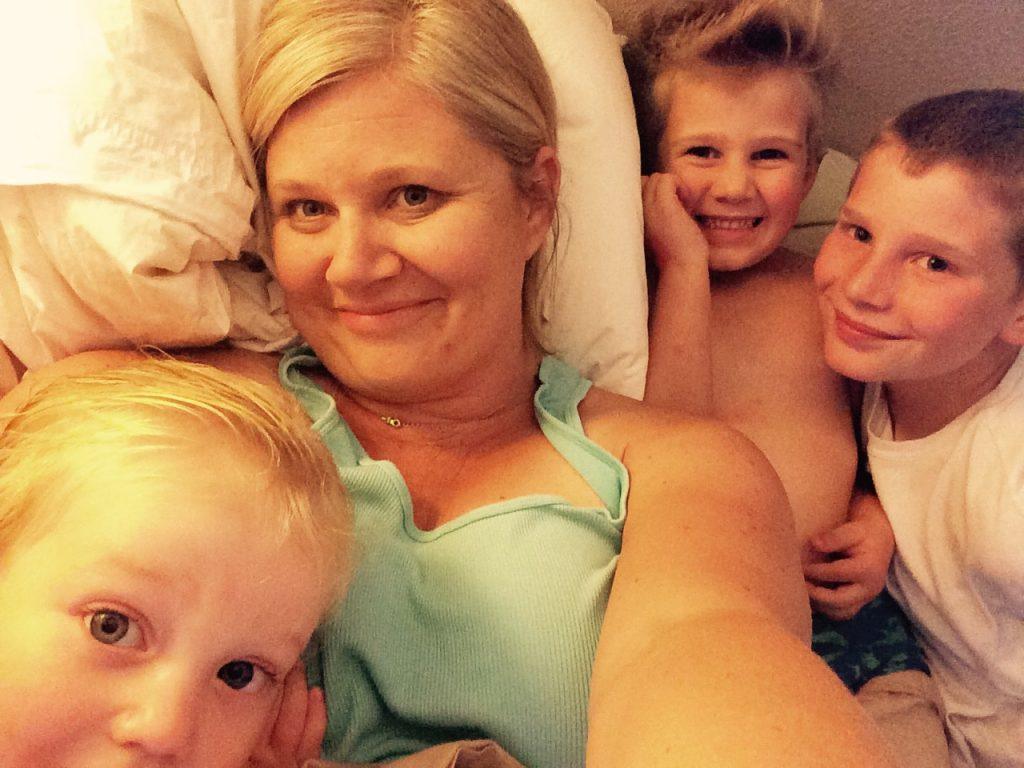 more stuff I shouldn't have said out loud: