And in today's episode of "shit nobody tells you about parenthood," let's talk about the amount of driving involved with this endeavor.
Could also be called, "If this is sacred, why am I so bored?"
I mean, I get it. Motherhood is a really beautiful thing. At least 14 seconds of it each day take my fuckin' breath away.
But the rest of it feels a little more like vapid routine blended with odd smells and existential crisis.
The good news is, my sense of the hyperbolic remains intact.
So, our kids' school is about 15 minutes away from our house. It's a long story involving schools and where we can afford to live and blah blah blah, but the point is: My daily driving routine is something along the lines of unbridled bullshit.
For two years, I had to leave my office at 2:15pm to get my kid at 2:30pm, at which time I would sit in my car with said child or run to the store because Rocket didn't get out until 3:05 – who the fuck invented that plan? – then I would drive across town to pick up the teenager and her carpool, circle back to my house, drop off two kids, drive back near my house to pick up the toddler, then go home.
The process took two full hours.
Then I brilliantly learned about an after-school sibling program (that's always been around, FYI) for $40/month where your little kid can dart around a gym for 35 minutes, guarded by teenagers, waiting for their older sibling to get out of school.
The discovery was perhaps the happiest moment of my life.
So now my driving is 1.5 hours. Sometimes Mac and I share it. Those are the good days. Sometimes he does it himself. Those are the orgasmic days.
Sometimes he's working so far away he can't get there at all. Sometimes he's doing that for ten months at a time.
Those are not orgasmic days.
By the time I get home after that drive, I feel like I've run a marathon naked in the snow. But even that would be more rewarding since at least I'd be burning calories and it's at least weird. You know, a good story.
In between road rage, car line pick-ups, double-parked motherfuckers, the mess of my minivan – partnered with the fact that I, in fact, drive a minivan – back pain from sitting so long, bickering children, spilled milk products when I can't even figure out where they got the fucking milk, whining demands for what music is played and WHO GOT TO PICK THE LAST SONG, the list of paperwork I'm supposed to sign as well as the shit we were supposed to turn in yesterday that I was also supposed to sign – there's me, wondering if perhaps there was going to be more.
Or was there? I kind of signed up for this, didn't I?
Our life is the way it is because we constructed it this way, so why am I complaining?
First, because it feels good.
Second, because I think so much of motherhood is this really vapid shit nobody talks about, tasks and routines that are so heavy and dry, just the same thing each and every day – and it's rarely fun, and it's not particularly rewarding, and yeah, I'll say it, it doesn't feel "meaningful."
The feeling I get in these beats of motherhood – in the daily uniformity and yet never consistency because who the fuck knows what mood the toddler or teenager will be in today?
The feeling I get sometimes is that my life has become nothing.
And by extension, I have become nothing.
I don't feel this way now, as in, this very moment. I just published a book. I just got back from a book tour.
But I began writing this blog post in March, just a couple of months ago, then abandoned it, probably because I had to drive somewhere.
How quickly things change.
How quickly things return to the same.
I'm riding the high of your messages to me, your comments that you see yourself in the book, in the depiction of motherhood I explored and worked on for two years. I worked my ass off, away from my children. I gave it everything I had, much of it alone. I worry about book sales and I'm hustling to get this book into the world's hands, and it's hard, and it's all-consuming, and terrifying, but in between, I drive. I drive around in circles, and come home to a thrashed house and dinner to be made.
I drive and drive and drive.
I know that when this all dies down, I'll find myself there, again. Back on the same old track. Wondering where I went. Wondering if I'm gone.
I think this is how it goes, back and forth, looking for ourselves in these tiny moments, often drowned out by the roar of 2 hours in a messy car, again, listening to bickering and searching for that paper we lost and realizing one kid forgot his instrument and the toddler is somehow lacking a shoe, and me, knowing somewhere this what I wanted, though I get to hate it, too, now, and maybe forever.
Thank god it's almost summer. Thank god we just keep rolling on. Surely right around the corner it will all feel synthesized, right?
No.
It will feel the same, but I'm glad I get to talk to you, and when you see me in my fucking minivan, you'll know what I'm thinking. And if we see each other, we can't be disappeared.
Maybe that's the story I'm writing now.
Maybe that's the story we're all writing.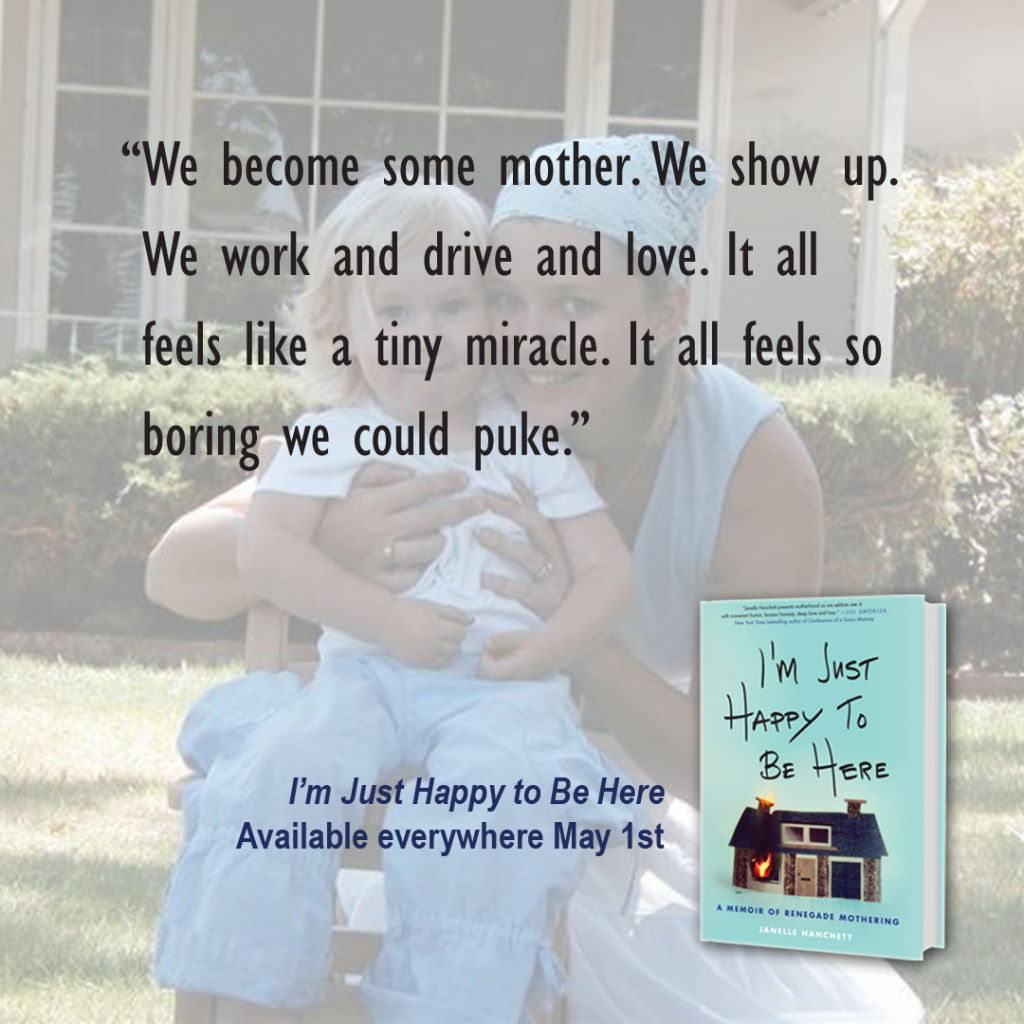 ***
Have you checked out that book I wrote?
I wrote it for you,
that's for damn sure.