Lately I've been hearing, "It's different this time." "Something is really changing."
Our Trump-supporting family members are using the word "murder" in reference to George Floyd. Those of us with Trump-supporting family members know what a big deal this is. People we would expect to really come to the rescue of Target are sharing MLK Jr.'s "language of the unheard" quote.
Sure, everybody's favorite Florida boomer still pops into the thread to bring up the fact that Floyd did coke and wasn't exactly a model citizen—because model citizenry is apparently the baseline requirement for not being murdered by police—but now, Florida boomer just seems pathetic. The desperate gasps of a dying racist.
Makes me think of Bob Dylan singing, "Get out of the new road if you can't lend a hand."
In other words, we are moving on with or without your NASCAR-weeping ass.
Statues are toppled. Kids are done asking cities for permission they'll never get. Kaepernick was told, "There are other ways to protest." 2020 agrees.
Eight minutes, 46 seconds. Handcuffed, face-down. Two officers kneeling on his legs. One man casually kneeling on his neck—one hand in his pocket, serenity washed across his vaguely smiling eyes. The face of evil? Nah, the face of white supremacy. Also evil, but not uniquely so.
White people, tell me, do we not recognize that smirk? Just a little? In our uncles? In ourselves? Deep down in our blood, the smirk that rests in the knowing that most likely the state is on our side.
Our ancestors took their children to watch lynchings of Black Americans. They dressed in their Sunday best and drank Southern cocktails while young Black men hung from trees behind them. They took photos and sent them to family members who had moved out west. You know, to remind them of how things were back home. Model citizenry, etc.
They grinned. They smirked. Their eyes casually rested in the knowing that the state is on their side.
It lives in our blood though we hate to admit it. We hate to see it.
Uprisings in every city of America and 200 countries worldwide. NASCAR bans confederate flags. Ben & Jerry's somehow pens a manifesto. Mitt Romney marches with Black Lives Matter. We tilt our heads to one side and try to process.
The whole world in a tidal wave: You will join us or we'll roll on without you. Make a choice.
Here we are, witnessing the moment many of our white family, friends, and acquaintances are scooting off the fence. Family and friends wondering if there's "maybe something to this Black Lives Matter thing." Lord.
And we, we are the ones at the crossroads. We are the people they will encounter first. We are the ones on the other side of the fence, and our job is to get uncomfortable and get inconvenienced. Our job is to remember that white supremacy is woven through the fabric of our brains and bodies and lives. The water we swim in and never have to see. The smirk that knows.
In other words, we are the ones who need to deal with their bullshit. Who else could it be?
And yet, in my travels around the internet, I hear a lot of attacking of people quite clearly grappling with the extrication of what they've always known to be true. Sure, it's fucked up. It's also real. Is the goal to help move out of racism or is it for us to be the wokest in the room?
And friends, I see it in myself: Some idea that I'm better than, elevated. Hey, Janelle, shall we remind you of how you wanted to know why there was no "white club" in your high school? That happened, that was real. You really meant that.
YOU LEARNED SHIT IN GRAD SCHOOL, ya fuckin revolutionary.
We talk about how we want to be "allies," we want to help, we want to do something, but the second our third-cousin twice-removed starts mentioning mixed feelings about the statues being toppled but shows genuine concern and openness, we attack the motherfucker for failing to embody the lexicon we learned in our Race & Gender class at UC Berkeley back in 2007.
Do we need to talk for a moment about the bullshit Black people endure every day not only overt racists and middle-of-the-road racists but also Super Woke White Women who figure it'd be best if they just kinda, you know, took over the local Black Lives Matter chapter?
They read Ta-Nehisi Coates, okay? They know things. And yet we somehow can't work with the clunky, awkward friend who discovered she's white a week ago?
I'm not talking about Florida boomer. Fuck that guy. Wrap him in his confederate flag and bury him. But there is racism and a refusal to listen, and there is a moving away from racism and a former refusal to listen.
If anyone is required to make this distinction, it's us.
Times are either changing or not. We are undergoing a mass expansion of white minds or we are not. We see ourselves as the problem or we don't.
How can we see the face of George Floyd against pavement, claim to be allies, yet lack the stamina and patience to understand that the road to a new way of thinking is awkward, clunky, and downright "offensive."
ARE.WE.SO.DELICATE.
Before I taught my first university class on my own—which was an English class I divided into four sections (race, gender, class, and power), featuring the writing of Baldwin, X, hooks, and others—my advising professor told me this: "Your students are going to say inappropriate things. They are grappling with hard ideas and they do not yet have the vocabulary for it. Don't attack them. Ask them questions. Keep asking questions until they are forced to trace their idea back to its beginning."
These are not students who said overtly racist things. Slurs, etc. That's different.
What I'm saying is that the road out will be messy, complicated, and nuanced, and it is our job to open doors, get out of ourselves, help others the way we were helped. I don't think it's our right or place to adopt the justified anger that may exist in people of color who are absolutely done dealing with white nonsense, and extend it into our own interactions as if we are the same.
We are the people who need to humble ourselves and remember the person who woke us up.
Because somebody somewhere woke you up. If it was your parents, somebody woke them up. If it was your grandparents or great-grandparents, well, somebody handed those badasses a pamphlet. Nice work. But still, at some point, we had to be pulled, possibly dragged, from our soothing pool of white.
We are the people whose ancestors took their kids to lynchings. We are the descendants of slaveowners. We are the ones who told Martin Luther King, Jr. that though we agree with his cause, we just wish he'd wait.
We are the ones who could wait.
THIS IS NOT ABOUT GUILT. This is about seeing ourselves as a member of a vast history, a larger whole, a single voice responsible for lifting our brothers, sisters, friends, family, and acquaintances, out of the web of a brutal lineage. We need to get into the new road and lend a fucking hand. It won't be clean and it won't be easy.
In 1962, James Baldwin wrote a letter to his nephew just before the Civil Rights Act, on his nephew's 15th birthday.
In it, he wrote the following:
"In this case the danger in the minds and hearts of most white Americans is the loss of their identity. Try to imagine how you would feel if you woke up one morning to find the sun shivering and all the stars aflame. You would be frightened because it is out of the order of nature. Any upheaval in the universe is terrifying because it so profoundly attacks one's sense of one's own reality. Well, the black man has functioned in the white man's world as a fixed star, as an immovable pillar, and as he moves out of his place, heaven and earth are shaken to their foundations."
Heaven and earth shaken to their foundations. A world recognizing the smirk of a white man during a lynching, some of us within ourselves. It is a terrible witness, a piercing truth, but it is ours, and we can welcome the shivering sun.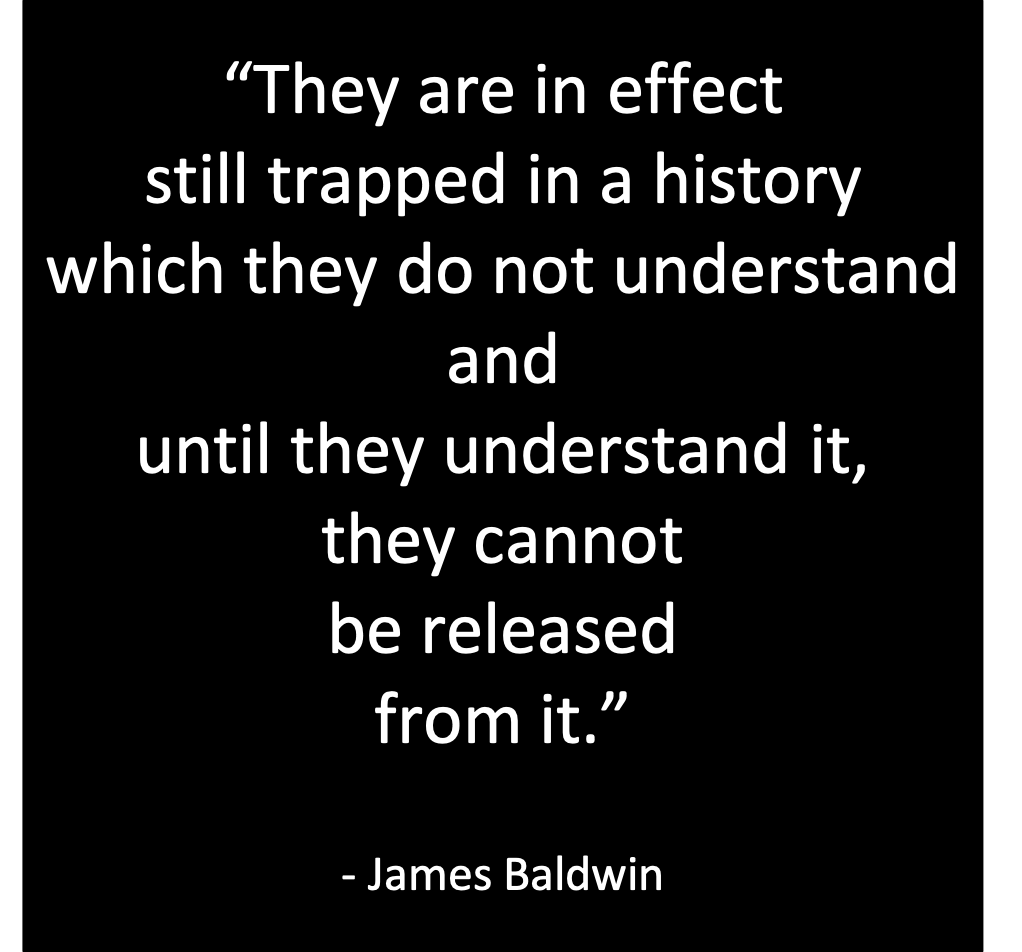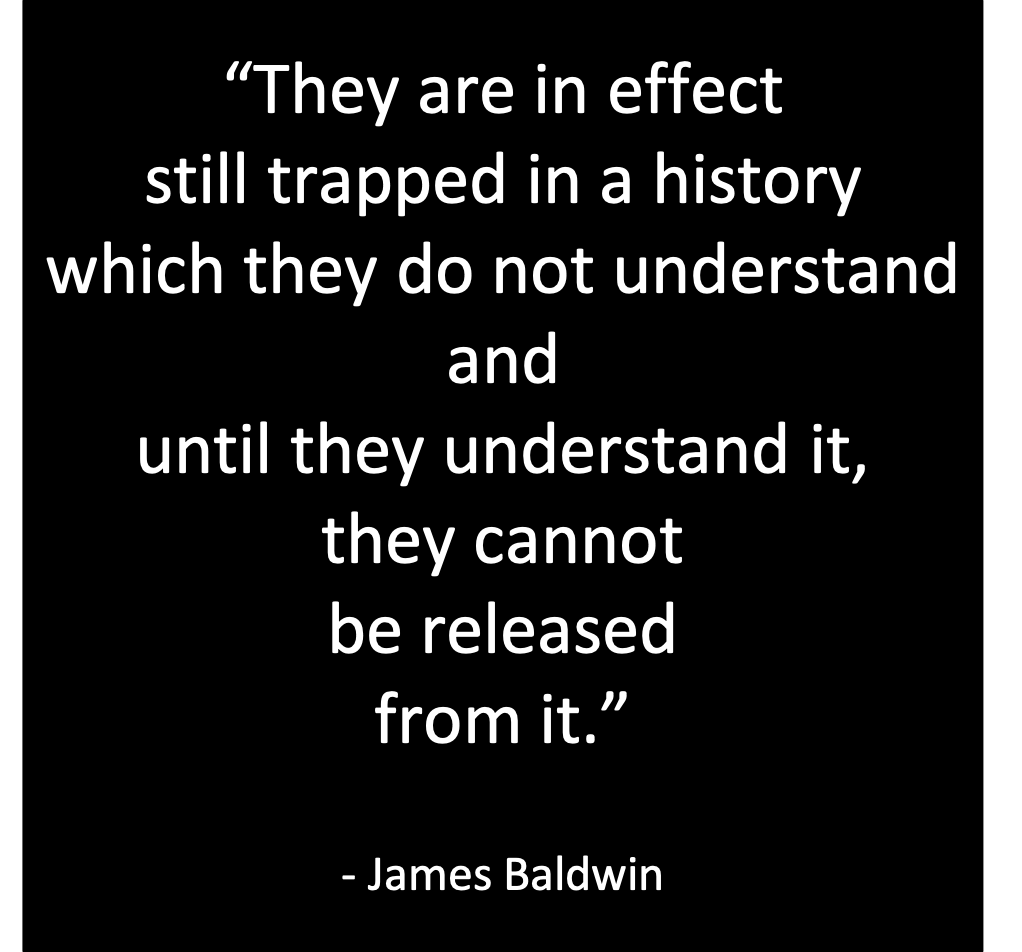 more stuff I shouldn't have said out loud: