For the past few months, I've had a mantra. It's very complicated. It goes like this: "All you have to do is get through March." I knew this month was going to be a killer one. I'm teaching 5 classes: 3 at community colleges in 2 cities and 2 high school English classes for homeschool students. And I'm 29 weeks pregnant. On Mondays and Wednesdays I'm gone from home for 12 hours straight, working. I used to "relax" and "rejuvenate" (did that make you laugh out loud too?) on Tuesdays and Thursdays and Fridays, but now I teach two of those days too. So basically I just want to off myself.
Had I known this would be the month Georgia's preschool would suddenly close, AND the month wherein we would decide to pull Rocket out of school, I would have just thrown in the towel on March 1. You win, motherfucker. I'm out.
I wake up every day thinking "I can't do this." I can't get up. I can't get them ready. I can't drive the hour it takes to get the three of them dropped off (Ava is still in school in our old town 30 minutes away, and Georgia's preschool is 30 minutes away from that). I can't prepare these classes. I can't stand and teach. I can't grade these papers or write or send those emails or find shit or do laundry. I can't. I can't do my life.
And then I get up and do it one more day. Sometimes I text my best girl and she tells me "You're already doing it." And she's right. Our greatest struggle, our hardest time, we're often already doing it.
Ava went to her first dance on Friday night. A 6th grade dance. She was worried her dad wouldn't let her go so she told me "Hey mama I'm just gonna tell daddy it's a 'social.' I mean it's a 6th grade dance. It's not like anybody dances at 6th-grade dances. People are way too freaked out for that." I think it's funny that I have a 12-year-old observing and analyzing the social dynamics of other 12-year-olds. That's normal, right?
We have pulled Rocket out of school. He is being homeschooled by his grandmother out on their ranch. We are working together but she has essentially taken it over. I am one lucky woman, and so is my son. There is no way he could be homeschooled by me right now.
He was coming home from school with headaches every day, learning absolutely nothing and losing his soul (from what I could tell). Maybe it was a terrible classroom. Maybe the school just wasn't right, but it doesn't really matter who's "at fault," right? It wasn't working. Period. In the week that he's been home, for the first time ALL FUCKING YEAR he was excited about something he did at "school" and told me all about it… "Mama! Did you know yeast can grow without sugar! We set up this experiment…" and "So there was this guy who started this bird organization (Audubon) and he had a 'lifetime bird list' so Nana and I started one and I already have two birds!"
It's nice to have my boy back. I'm glad this disaster of a school year left enough of him that he can be rebuilt. Cheers.
Georgia is obsessed with the baby exiting my belly (admittedly, I can relate). As I mentioned on Facebook, I explained it comes out the vagina, and she said something involving milk and vaginas and I was like "no milk is boobs" and the whole thing was slightly disastrous. There was some hope of comprehension this morning when she said "So the baby comes out the bagina," but then she announced: "But the bagina doesn't make milk because it doesn't have the recipe!" Right. Sure kid. That's exactly what's up.
Why are kids so fucking weird?
And is this not, friends, exactly what an 8-year-old boy should be doing for his "school day?" Hanging with his grandpa, eating an apple out in the country?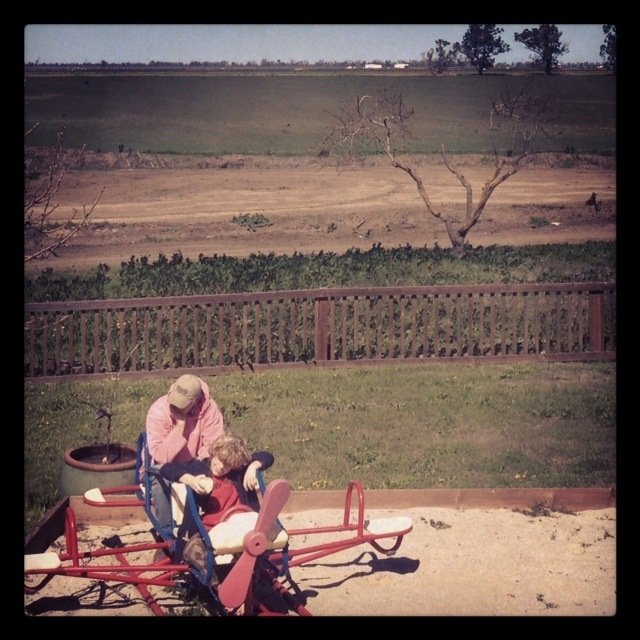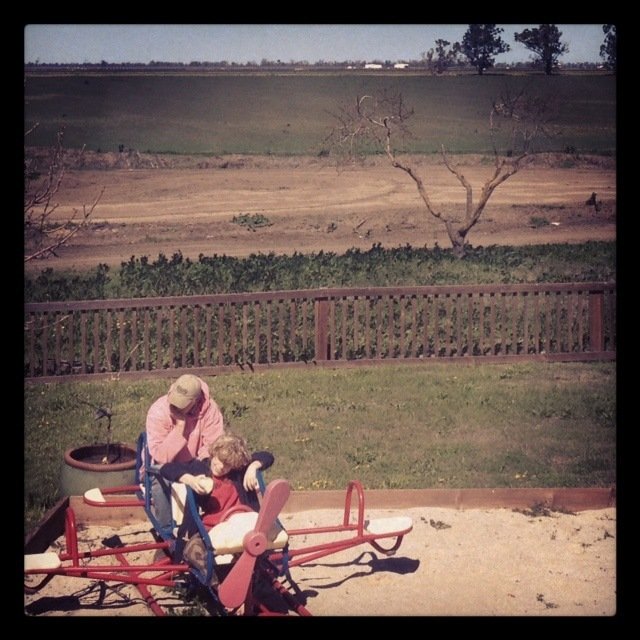 Ah, fuck it. I have no idea what kids "should" be doing and I have no idea what's right or wrong or good or bad with any of this. I'm just trying really hard to keep my boy's spirit and curiosity intact (or at least not diminishing before my very eyes).
I'll do anything to not lose him.
Also, hey. In case you forgot (since it's been so long), I used to write these "week in review" posts on Sundays. I've kind of gotten out of the habit (um, understatement?) but I'm going to start writing them again (maybe every 2 weeks?). And at the end of these, if I have a new sponsor, I'm going to tell you about that sponsor. And I'm really, REALLY excited to tell you about this one.
Heather Thorkelson is the founder of "Republic of Freedom." Her title? "Architect of Freedom, Idea Generator, and International Sherpa." Or, in fewer words: a fucking badass, real-deal life/business coach for people trying to build a livelihood rooted in freedom. For people like me who have a vision, desire that vision, know the vision is possible but have no fucking clue how to get there.
She helps us get there. She's done profoundly interesting things. She is living a life most of us only dream of (um, she just got back from some crazy trip to Antarctica with some team of researchers or some shit and then she was in Peru and apparently her 2014 will be in "Canada and Europe"). But she started terrified, too.
I don't call people "inspiring" because, um, most people aren't. It's a word so overused it's degenerated into platitude. But when you see a human living a life of freedom, her definition of freedom, a life that she designed  rather than some other person's version of "success," well, that's some actual inspiration.
She has helped me personally, and in a time when I was ready to throw in the towel on everything I was trying to do. (writing, etc.). Here was my email to her: "You're amazing. I can't believe you've just helped me like this, outta the blue. Thank you for carving a path for me. Helping me see shit. You really are fucking awesome and I am elated we've crossed paths.
Jesus. What luck. I feel empowered and alive."