I'm feeling ill-equipped for motherhood lately. I can't stop being an asshole to my kids.
I'm yelling too much. My patience is almost always already gone.
I lose it over nothing. Them. Being kids. Doing annoying kid things. Leaving their shoes on the couch one more time. The 5th time I have to ask him to get dressed. The bickering again about the dishes. The flailing in the back seat.
I know it's me, you know. I know it's my exhaustion and profound discomfort and the weight of this baby on my back and bladder and heart.
I realized the other day I haven't had time to love this baby. Does that make me a monster? That probably makes me a monster. I feel distant, disconnected. Though I feel her (him?) against the deepest swells of my body, and the little pushes and jabs comfort me, I only barrel forward through the days. I only wonder how it's possible to pee so many fucking times a night. I wonder how many thoughts can awaken me at 4am. I wonder why I screw around on my phone until 10:30pm when my whole self needs only sleep. Maybe it's the privacy, the silence. Maybe I'm just not equipped for adult life. Maybe the responsible decision will always elude me. Or it will sometimes, at night, when I should be asleep.
I want to settle down and wonder at my baby.
I feel the weight when I rise, go down, roll over in bed. Every time I get up I wonder how so simple a task could be so hard. The pressure shifts. My joints barely cooperate.
My kids drain me. That's pretty much all.
I do it one more time. I do it a hundred more times.
I should be in better shape. I should have taken better care of myself. I should eat better.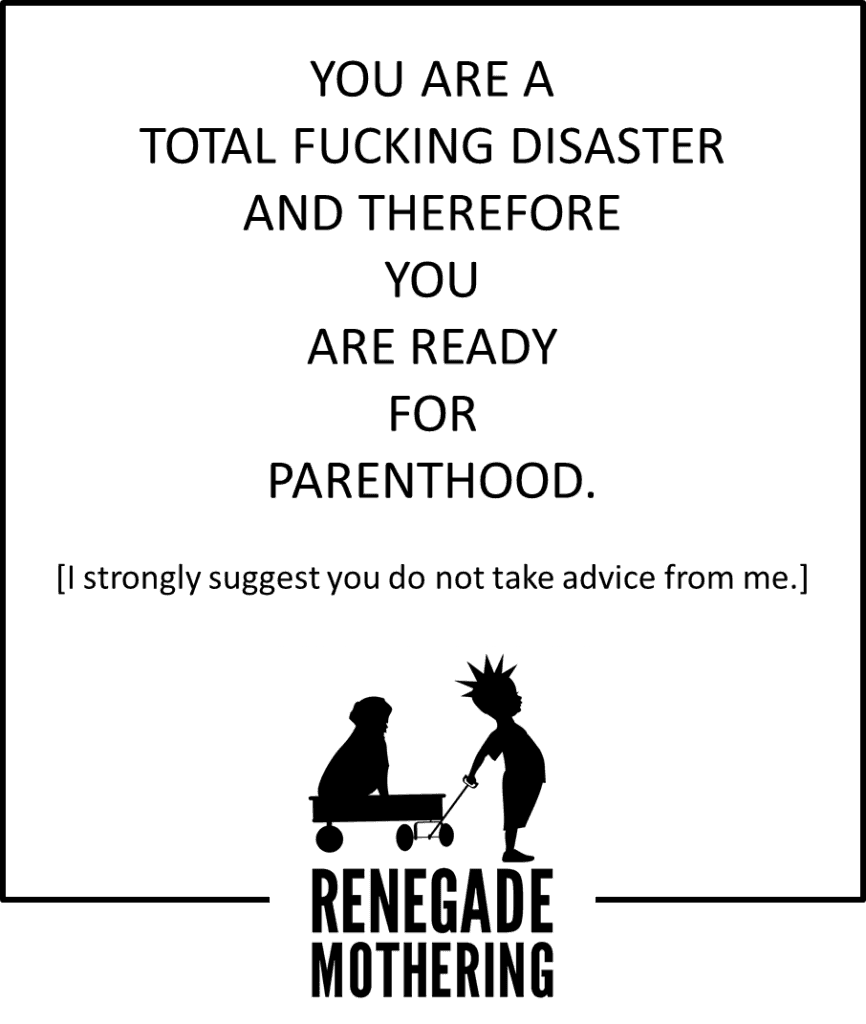 You think I'm feeling sorry for myself.
I am, though it doesn't manifest in inactivity. I wake up in the morning and think "I can't."
But I do.
Not because I'm some fucking martyr, but because there's no other choice. It's a job. You get up and fucking do it.
I look at the calendar and wonder how much longer. How much longer will I be teaching these classes? Standing for hours at a time. Standing until my hip and thigh go numb. I took on too much, I guess. I took on too much but we need the money. A woman in Austria told me pregnant women get 8 weeks standard time off before the baby comes. I went to Austria. Austria is nice. Do they take Americans?
They say "You should feel blessed and lucky to be 30 weeks pregnant with a healthy baby."
What a lovely family you have.
What a sacred thing.
Well, it doesn't feel sacred now, motherfucker.
It feels like work. Grueling, brutal work. It feels like relentless work, like the kind that robs you of your air and laughter and body. It feels like taunting teasing heavy heavy labor.
I wish they'd stop calling it sacred.
I wish they'd stop talking about motherhood like it's some sort of gentle rainbow across a bucolic meadow. I wish they'd stop telling women like me who are barely doing it that "motherhood is the most important job in the world."
Is that true? Is that really true? Then what does it mean that I suck right now? What does it mean that I just cannot pull it together and I probably won't for at least 2 more months?
I am failing my kids. Myself. My husband.
Right?
The weight of the souls of 3 kids. Their futures. Their whole beings: It rests on me, right now, ME this broken human who hurts and took on too much and can't or won't do much of anything beyond getting through, barely, trying not to get mad today, to keep it under control when all I want is for it to end – RIGHT NOW – this pregnancy – this job – the finances and futures and laundry – I'm crushed under it all (And what were we thinking anyway? And will it be worth it and how will we handle it all?)
Are these lives really on my shoulders, right now? Am I all there is?
No. I don't think I am, and I wish you'd stop making that shit up.
The fact is that motherhood is important, and my role in the lives of my kids cannot be diminished or overlooked or ignored, but it's also a fact that sometimes humans suck and my kids will be just fine.
Sometimes this shit is sacred.
SOMETIMES THIS SHIT IS NOT SACRED AT ALL.
Sometimes it's day after day of just pulling through and wondering when things will chill the fuck out again. Sometimes it's wondering what exactly you were thinking. Sometimes it's searching for the meaning in all this work, just like any other job.
Only with this job, you're raising America. With this job, you break souls. With this job, the world looks at you and yells "YOU DID THIS TO YOURSELF. Figure it out."
Do you realize how insane that is? We tell women "motherhood is the most important job in the world" but then bash them for struggling with it.
Incidentally, it's not the most important job in the world.
Let it go, people.
I am a mother, but I am a whole lot of other things, and right now, I am a woman who is totally and completely NOT FEELING IT.
Will that ruin my kids? Probably not.
Will that crush their little hearts? Doubt it.
Rather, they'll probably learn that people struggle sometimes and battle personal demons and sometimes you don't get the "best" version of a person. You get a piece of them. You get glimpses. You feel their love in splintered fragments, as it's always been, because this is humanity. These are humans. This is as good as it gets for us.
Right now, I am the mother who doesn't read stories.
I am the mother who can't cuddle for more than a minute or two.
I'm the mother not tucking you in…getting you late to school, letting you watch too much TV, feeding you questionable dinners.
I'm the mother who doesn't want to hear stories or endless toddler questioning and "what happened at school today?"
I'm the mother who doesn't care.
I'm the mother not RSVP-ing to parties, forgetting commitments, not helping with projects.
I am the one irritated with the way the kids eat, the one telling them to brush their teeth because damn! That breath. Foul little creatures, really.
I am the mother finished, demolished, pulling herself up with nothing.
I go to bed.
I'm the mother in bed, who lies down at night and feels the weight of all these things, hears her own yells rattling in her gray brain, wishes she could be a woman who holds her fucking tongue and lets it go.
To preserve the sacred family. To stop messing with goddamn rainbow meadow and shit.
In 5 years she'll be 16 years old. My first, nearly grown.
I turn my giant body and flinch at the pain of my back, and that thought.
In 10 weeks my toddler will gaze into the face of a new baby. She stomps in each morning "Can I cuggle (cuddle) with you?" I hold her though my bladder protests violently. In 10 weeks a baby will be in this bed too. Where will she fit? There will be times I cannot hold her. There will be times she is not the center anymore.
I close my eyes and hold those mornings.
I listen to my son breathe as he sleeps on my husband's chest. I wonder how his first 2 weeks of homeschool went.
I realize it's 5:30am.
I'm so tired.
I wish my love were enough, enough to make me the kind of mom who doesn't cave sometimes, into some place only time can dissolve. I wish my love were enough to make me "strong enough" or good enough or pure enough or whatever the fuck it is that makes women capable of doing all this and feeling all this and finding themselves pinned to the ground by life and still, not yell at their kids. Turn off. Shut down. Crawl away.
Yesterday I read them The Tale of Tom Kitten.
Today maybe I will make some stir-fried chicken.
In 10 weeks I'll birth a baby and find myself reborn too, with a gush of waters I'll enter this family carrying a new extension of my heart, my blood, my life.
I'll watch my family enfold him as they've done me, and I'll kiss their heads with a whisper of thank you, for holding me as I trudge humanity. Motherhood. The shattered sacredness of today.
more stuff I shouldn't have said out loud: