(First of all, it was last week, but whatevs.)
After a super handy internet helper diagnosed me with chronic depression based on the last blog post I wrote, I figured it was time to make some changes.
I jest. That's the stupidest fucking thing I've ever heard.
First of all, EINSTEIN. You can't diagnose strangers, even if they write things that make you go "Hmmmmmm?" Depression is a real thing, a serious thing, and 1,200 words on the internet are insufficient "evidence" to make such a determination. Or you might, at least, want to meet the person first, and then diagnose them based on blog posts.
Kidding. STOP DOING THAT.
Secondly, please consider just for a moment how goofy it is that you diagnosed a person with chronic depression based on A SINGLE piece of writing. Chronic, one blog post. CHRONIC, one single blog post. Do you see the problem here?
I love the internet.
Also, if I were clinically depressed, I wouldn't be writing. I'd be in my bed, possibly with some cocaine and a bottle of whiskey. I'm sorry. Was that a little dark? Yeah, well, so is clinical depression and THAT'S how it manifests for me and THAT is why I'm calling this human out rather than "being grateful" for her "concern."
I think maybe people find it so utterly baffling that a woman wouldn't be totally and completely fucking INTO MOTHERHOOD at all times that they can only conclude there's something wrong with her brain. I mean, clearly this shit is adorable and infinitely fulfilling and it's just irrational and frankly, incomprehensible that sometimes it could turn into a slow soul-sucking death.
Is hyperbole a symptom of clinical depression? I'm sorry. Inappropriate. Let's move on.
When I was a kid, I grew up about 40 minutes from the ocean in Central California. We went there a lot. It was often cold and foggy (northern and central Californian beaches often are, no matter what they show you on TV). My mom would pack us up and head to the beach on a Saturday or Sunday afternoon. Often it would be 4 or 5pm. The fog rested on us, turned my hair into ringlets around my face. I loved those curls. I thought they were adorable. I'd wear a sweatshirt and jeans rolled up and my toes would flip the cold sand. It smelled like life. There were these trees that seemed to grow out of the sand with sprawling branches and a thick cover, like the coolest natural fort you've ever seen. Maybe cypress trees? We'd play under them while my mom made hot dogs and we listened to the waves and smelled the water and made up stories and got lost.
When I was in high school, I moved further north. After school when I was drowning in nondescript teenaged angst (maybe clinical depression?!) I'd listen to live Dead as I drove the 30 minutes to Bodega Bay. Often, at some point the sun would turn to deep fog, but I always had a sweatshirt in my car. I'd sit on the beach and smoke cigarettes and drink coffee and write profound shit in my journal. Sometimes I'd fall asleep. I was alone. I loved being alone. I got back in my car and nothing had changed but it had all changed.
The ocean still does that for me, though I live 2 hours from it now.
We went Saturday morning to Monterey. My 35th birthday was on Friday. It was a birthday trip. My mom was there, as she's always been. She rolled up her jeans and held my toddler's hand.
My closest friends came. They drove 3 hours and paid for a hotel room to be there, with us, to celebrate, with us. It takes my breath away to have friends like that, people who love me like that. And people I love like that.
It rained on Saturday, but we went to Lover's Point where there are rocks and tide pools and shelter from the wind. Sometimes all we need is some shelter from the goddamn wind.
I always seem to find it, in time.
It was so beautiful I wanted a romantic selfie with my husband, but he licked my face because he's a fucking moron.
It didn't rain on Sunday. We went to Pacific Grove and found this amazing little restaurant that serves perfect breakfast. PERFECT BREAKFAST is no joke. Shit's revolutionary. George got a buckwheat pancake and Rocket ordered lox, which I found adorable, until I saw it was $12.50. OOPS. Oh well. Kid's got class. Or something.
Then we went to Carmel. And it was sunny.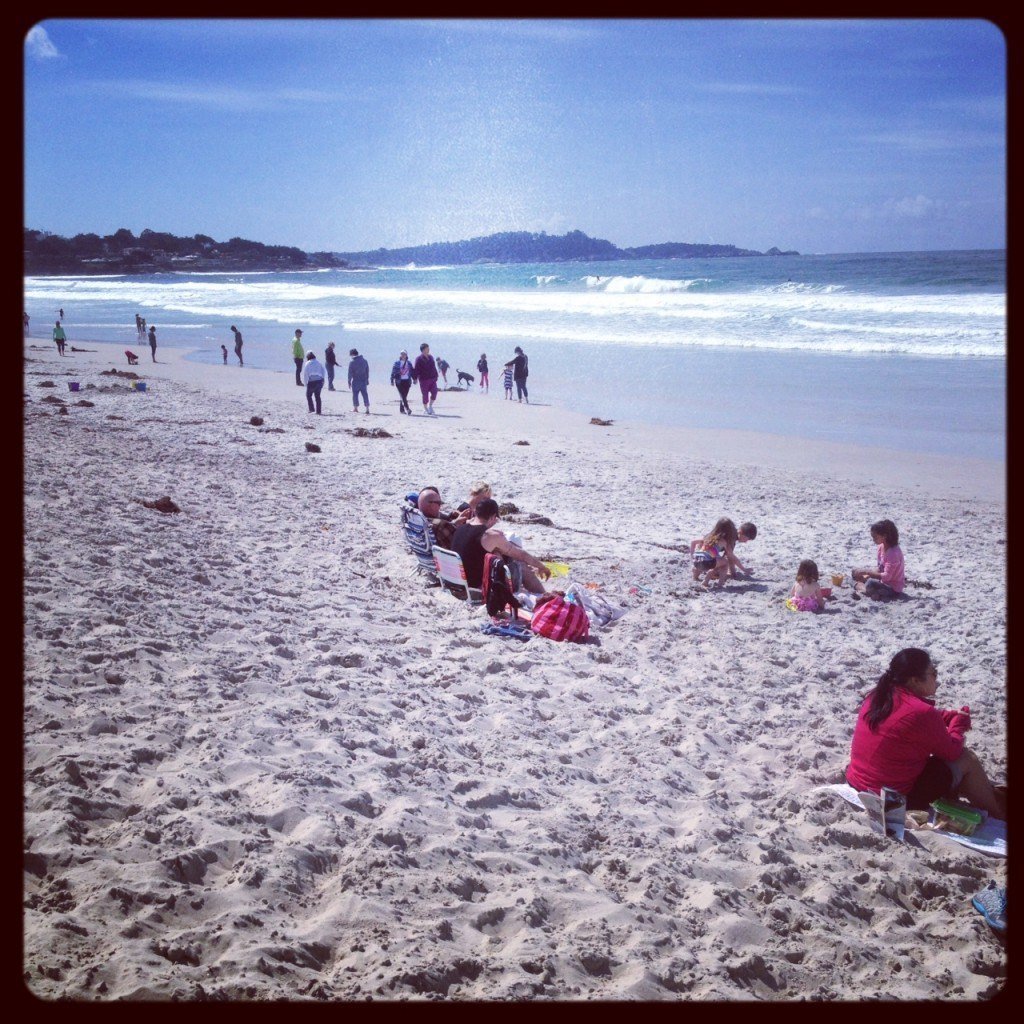 And then I came home, on the almost last day of March, and fell asleep remembering that my hell month is over and the universe always, eventually, hands us what we need, in salt and fog and sand, or lox, or the kiss of a friend or a licked face. Asshole.
Saved again, in the nick of time.
***

Also, I wanted to introduce a new sponsor. I'm really excited to have her join us because a.) She's a mom like us making genuinely adorable things out of her home in southern Oregon and b.) part of the reason she started her business is so she could keep herself from going nuts as a sudden stay-at-home-mom amidst her 4 (!) offspring, a fact that strikes me as amazing.
I mean, when I'm overwhelmed I EAT SCONES. Rhiannon makes adorable baby and children's products.  
Check out her Etsy shop. She makes teething rings (totally getting one for my baby) and blankets, burp cloths and children's clothing (all at fair prices). She uses bright, engaging fabrics not traditionally used for "baby" items. In her words: she tries "not to make single-use products so people can enjoy our toys for longer than just the teething stage. Same thing with the clothing  – the dresses can be worn for years just by adding leggings, shorts, long sleeved shirt etc."
Favorite quote from our interactions:  "My kids are awesome most days…when they're not I put them to work in the 'sweat shop' that is my home-based business." Need I say more? She's our people. We love her.
more stuff I shouldn't have said out loud: