If you've been reading this blog for awhile, you know I get lost sometimes.
And then again. And again.
But I don't want to write about that. I'm tired of writing about that.
I've written it all before.
I don't want to write about anything, really. And that's not new. I'm sick of myself. Do you ever get sick of yourself? Your story? Your "insights," the shit you keep giving the world, even your humor or other things people like about you?
Does it ever begin to feel false and wrong or just simply totally uninteresting? Like it's all a gimmick? A bunch of bullshit?
Or maybe that's not even it. Maybe that has even too much definition, too much clarity. Maybe you're just floating up in the air at random like a balloon 400 feet in the air and wind and clouds.
That's where I am.
I think.
How the hell am I supposed to know?
I haven't written anything here for a few weeks.
Can't.
I'm struggling. When I'm struggling a little, I write a little.
When I'm struggling a lot, I write nothing.
(And worry all day about the fact that I'm writing nothing (because I'm never going to write again, obviously.))
I get ideas, but they don't seem right. I start things but I don't finish them, because it all feels like a lie.
It all feels so wrong I eventually determine I'm just fucked.
But maybe I'm not fucked. Maybe this is just new motherhood, again, when I'm rearranged and my life family home brain is recreated. Destroyed, and reborn, though I kick and scream and worry I won't get found again. Maybe I'll stay lost this time. Maybe I was never found at all, but rather just found some groove that felt comfy and cozy and allowed me to delude myself into thinking I had some control, like my life was moving in a direction that made sense, that I'm a grown-up.
I'm not trying to be deep.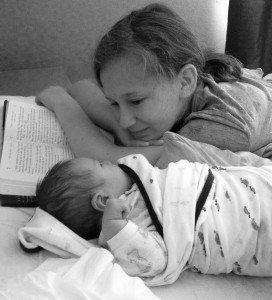 I'm fucking
confused.
I want to be "authentic" but I can't find "authentic."  What the fuck is authentic?
I want to be "real" but "real" is a series of days that knock me flat. How do you write about that?
I can't get anything done. I NEED A MOTHERFUCKING ROOM OF MY OWN.
I get, you, Virginia.
Actually, at this point, I'd settle for a corner of the bed.
"Authentic" is that I'm so exhausted I can't think of simple words and I wake up feeling like a bolder is flattening my forehead and my eyelids weigh approximately 12,000 pounds each and I've got 3 kids and a newborn in the house all day and night and it's summer and every time I "finish" the laundry every hamper is full again.
But that's not it.
My tired is a relentless tired, one that smashes me every single day, and keeps happening because Arlo goes to sleep at 11pm or so but I NEED SOME FUCKING SPACE so I hang out by myself in bed and read or play on my phone for an hour or so which puts me asleep at 12am or 12:30 and he wakes at 3 or 4 and then Georgia wakes at 6am and it starts all over again. I have a tired that makes me want to sit down and cry sometimes, or throw a temper tantrum, which I do occasionally, then I feel guilty for acting worse than the children I'm trying to raise. Sometimes I realize it's 3pm and I have eaten only 4 bites of Cheerios, but not on purpose.
But there's more.
I have ONE article due each Tuesday and it takes everything I've got, people. ALL OF IT. All the creativity. All the energy. All the mental faculty. Is that pathetic? Probably. But it's real. There's no time for creativity, for art, for spirit.
I'm an insane overly sensitive irritable zombie milky ass human.
Nah, not that.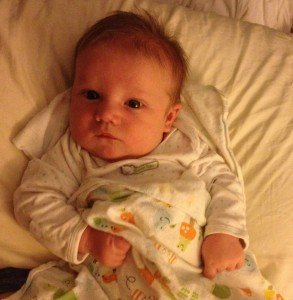 I'm a mom hanging out with 4 kids, happy as hell to be home with them, loving her house and dog and backyard hens, grateful for the article-writing gig (virtually my only income right now). And in the evening when I give my baby boy a bath he coos and smiles at me and it's just him and me and sometimes I hold him naked against my chest and I almost cry I love him so much and I'm so grateful for him and his milk sweet breath.
And we've been going to the library every week, which is a new thing, discovered because it's hot as fuck and we're broke and it's free and cool. Ava thinks she wants to grow up to be a librarian. Last year it was a NASA engineer. I find that wonderful.
I told Rocket Arlo is getting his shots soon, so every day he asks "Is it today?" Finally I asked him why he keeps asking and he said "I just think I should be there."
Those were the words, but the look on his face said "I don't want my brother to hurt without me."
And I thought about the way Mac always said he wished he had a brother and now there are brothers in our home and it's gorgeous.
That's true, too.
Georgia turned 4 and I enrolled her in a little nursery school around the corner. We got a cedar play structure as a gift from my inlaws and Georgia taught herself to swing. This morning I looked out there and she was naked, swinging in the sunlight. The light hit her gold hair and body and I just stood there watching because it was beautiful.
We have 4 hens. The kids named them all "Tina" so they can yell "Tina you fat lard come and get your dinner!" The labrador has made friends with Tina. Yes, that's correct. The 90-pound dog kicks it with the chickens.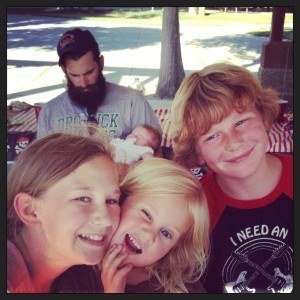 Rocket is begging to go back to regular school because he wants to be with the rest and he always wants the opposite of what he has, but did I mention he learned to read FOUR WEEKS after leaving school? Four weeks, people. Four weeks of homeschool and he went from knowing maybe ¾ of his letters to reading at a kindergarten level. By 8 weeks he was at a 1st grade level. And now, sometimes, he reads some 2nd-grade-level books. The pressure and anxiety of that classroom were literally destroying his ability to learn. It's so hard for him.  He worked so hard to read. My God he worked so hard. I knew public school was slaughtering him. I knew it, so I responded, and he thrived. Sometimes I don't blow it. What.
But he wants to go back to school, and we live in a better (read: wealthier) district so we're giving it a shot, again.
I'm terrified though. And it's probably a mistake. But as my friend said, "If he's going to make it in public school, it will be this one." So here we go.
Yes, here we go.
Please don't tell me I'm depressed, or need help, or whatever the fuck. Maybe I'm a little depressed, but depression is an abyss, and I'm not in an abyss. I can see out, and I know it won't last. This is different. This is right. This is life knocking you around, making you uncomfortable.
I'm just lost, so every story I try to give or say or write sounds not quite right, because if you're lost you can't wrap life up into some package, to be delivered and opened and consumed. You can't turn it into something contained and palatable and friendly. It's only messy and rugged and spilling wide open, everywhere, until it finds new edges, and contains itself a bit, and you open your eyes wider to a world you thought was much smaller, before.
And you're glad you didn't settle for the old, comfortable version. All worn out and tired.
Now the baby is crying. He was asleep.
I had a few minutes. Those few minutes are gone.  More will come.
Georgia is singing to him, trying to soothe him: "It's okay, I love you, you love me, all the bad animals are gone…."
Kids are insane.
This shit is nuts.
I'm a fucking maniac.
Nope. Not that.
Here I am.
Alright.
more stuff I shouldn't have said out loud: