I saw it again. That quote. That meme. The one that says: "The way you talk to your kids becomes their inner voice."
Can we talk about that for a moment, kids? Because if it's true, that my voice will become the one whispering sweet nothings from the recesses of your adult mind, we should probably pretend 2015 never happened. Can we do that?
Perhaps we can just let this one go. You know, in the broad scheme? Of the 18 years you hang with me (at a minimum), let's just call 2015 a bust and move on.
There are four of you. I am the mother to four of you. That's four brains at my mercy. I do okay with that most of the time. And I started 2015 out okay, too. Your dad got hurt at work, then some stuff went down that damn near ruined me (which I can't talk about on the internet), and then, well, your dad was called to work 2.5 – 3 hours away. For 10 months. And my life was turned upside down, against my will, with no solution in sight. I guess it was just too much.
Sometimes I handle glitches in my fucking life plan with dignity and grace. Other times I act like a crack addict who misplaced her last baggie.
Never do crack.
Seriously though, kids, usually I can muster the perspective, patience, and strength to roll with life's bullshit, and I kind of just keep on going, as we do, after kicking and screaming for a few minutes. And then I accept it and move on, because I can't live with resentments. I can't live with the inner turmoil caused by WHY ISN'T LIFE GOING MY WAY GODDAMNIT? It will never go your way, Janelle. Not always. So just stop. Throw in the towel. Enjoy the fucking ride.
But this year, I couldn't. I just could not "get okay" with my husband pulled away from me for 10 fucking months. Every morning, every afternoon, every evening: I was alone with you guys. But I work. I WORK TOO. But I couldn't do my work. I had to work but couldn't work because I had virtually no help. How do you live like that? When you have to do but can't do day after day? The part that really messed with me was that there was nothing I could do about it.
I felt trapped. Cornered. I literally, in a very real and tangible way, could not meet the requirements of my life. I was failing everything and everyone, drowning in mediocrity. I can't be expected to have a career but live at the mercy of somebody else's career. IT CAN'T BE BOTH. I CAN'T DO EVERYTHING. I simmered in rage and self-pity, and fought to the death my own powerlessness.
There was nothing I could do, so why was I fighting? Because I fucking hated it. Because I didn't want it. Because I was outraged. Because I missed my husband. Because I'm immature and ill-equipped for life. Who knows why. It's just what happened.
And the more I fought, the more I kicked and screamed, the more it didn't work, more exhausted I grew, and the more depressed. And anxious. It was a slow build to disaster.
My ability to sleep vanished. I was nearly out of my mind with exhaustion. I remember the day I called my best friends and my mom and said "I think I'm depressed." Their response was something along the lines of "No shit, Einstein."
But you four. You were just there, looking at your mama. You were just there, in the car, as I drove you around, or made dinner, helped you brush your teeth. You were just there, in our home, waking up and making lunches and doing your chores. You were just living, little kids, doing your kid life, looking to me to do the mom life, while I fell apart under the love of your gaze.
They say my voice will become the one in your head.
Will it be the one that screamed "What the hell is wrong with you?" one morning, on day three of 4 hours of sleep, when I simply lost it?
Will it be the literal grunt I gave you in response to you telling me something about your day? It was 3pm. We were driving home again. I knew all the evening is on me. I had 60 papers to grade. We had nothing for dinner. I guess I'll take 4 kids to the grocery store. I'm so tired. I'm like a zombie. My body weighs a thousand pounds, my thoughts a million. My eyes are blurring on the road.
Hey mom. Hey mom. Hey mom. Let me tell you about this thing. Can you believe that? Hey mom.
"Mmm." I don't even pretend to care. I can't. I don't even pretend to listen. Your voice is barely audible beneath the roar of my separation.
Will it be my voice demanding "Come take this baby!" so I can make dinner without him getting burned as he clings to my legs and screams?
Or maybe it will be the 700 "I just can't talk to you about this now."
Please give me a moment.
Please stop talking for a second. I can't do this anymore. I fucking can't do it. I yell it on the phone. I scream it. I hang up. I throw a picture frame.
My grandmother got depressed once, after she had her 5th child. One day, she lay on the couch and didn't get up again, for a long time. It was maybe 1952. A friend brought her a paint-by-number art set. She did paint by number, one tiny shape at a time, one tiny minute at a time, for days, until her mind pieced itself back together, and her legs worked again.
"What are you going to do, Janelle?" My mom asked.
"Janelle, DO ONE THING TODAY." My friend said.
I cleaned the linen closet in the hall. I did that. I did that one thing that day. The next day, I got vitamins and herbs and told myself I had 30 days to feel better and then it was off to the doctor for medications. The day after that I got a therapist. A couple of days after that, I realized I heard you tell me about the kid who took your math book , and I cared a little.
Slowly, I got off the couch.
They say my voice will become the one in your brain. I said a hundred things this year I'd like to erase. My silence perhaps more awful than my words. Does silence echo too? I imagine it does.
But what about when we sat on your bed and I said "I'm sorry. I shouldn't have said that. You don't deserve that. I'm having trouble managing my anger." And we hugged, hard, again. For everything. Or the hundred times I showed up anyway, broken and distant, but by your side with the tenacity of a fucking bulldog, because you're mine and I'm yours? Does that silence count? Will it hold you too in 20 years? I put on your favorite songs. I watched you sing with blurred eyes. I loved you with perfect clarity.
Do you hear that, too? All the moments I kissed you and said "I'm really tired. I'm having a hard time. But I'm trying to get better."
I didn't want to make this your problem. I didn't want to put this on your shoulders, but I owed you an explanation. This isn't your fault. I'm working through something. I will get better. We're a family. We're broken. We hold tight and get remade. THAT'S WHAT WE DO.
I'm painting, kid, one tiny shape at a time, and pretty soon it will be done, and I'll be me again, and my voice will stop cracking mid-sentence, in defeat, or rage.
I don't always love that I'll be the voice in your head. I'm not sure I even fully believe that. I hear my mom's voice. I also hear my dad's (P.S. WHY DON'T WE DO THIS GUILT SHIT TO DADS?), and a few asshole teachers, and a couple good ones, but mostly, I feel what it felt to be in my mom's arms, to live in her home, to smell her hair and skin and know this is home, even fucked up, loud, sad and weird. I knew she'd always come. I'm lucky to have that. It's all I ever really needed to know, in the end.
I hope you know that too, that though my voice was shit in 2015, my arms have remained the same. And they're yours.
Let's go.
Love,
Mama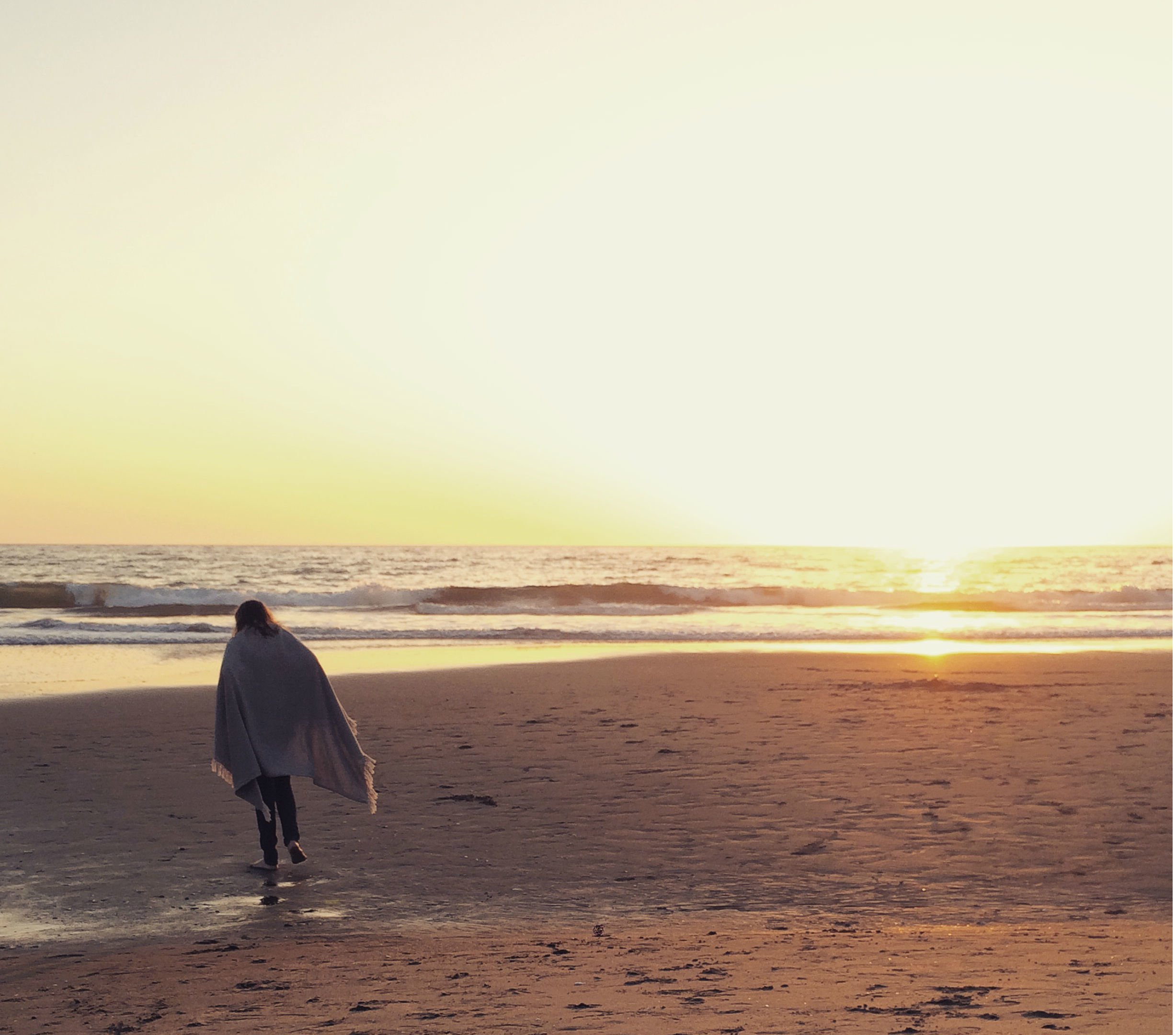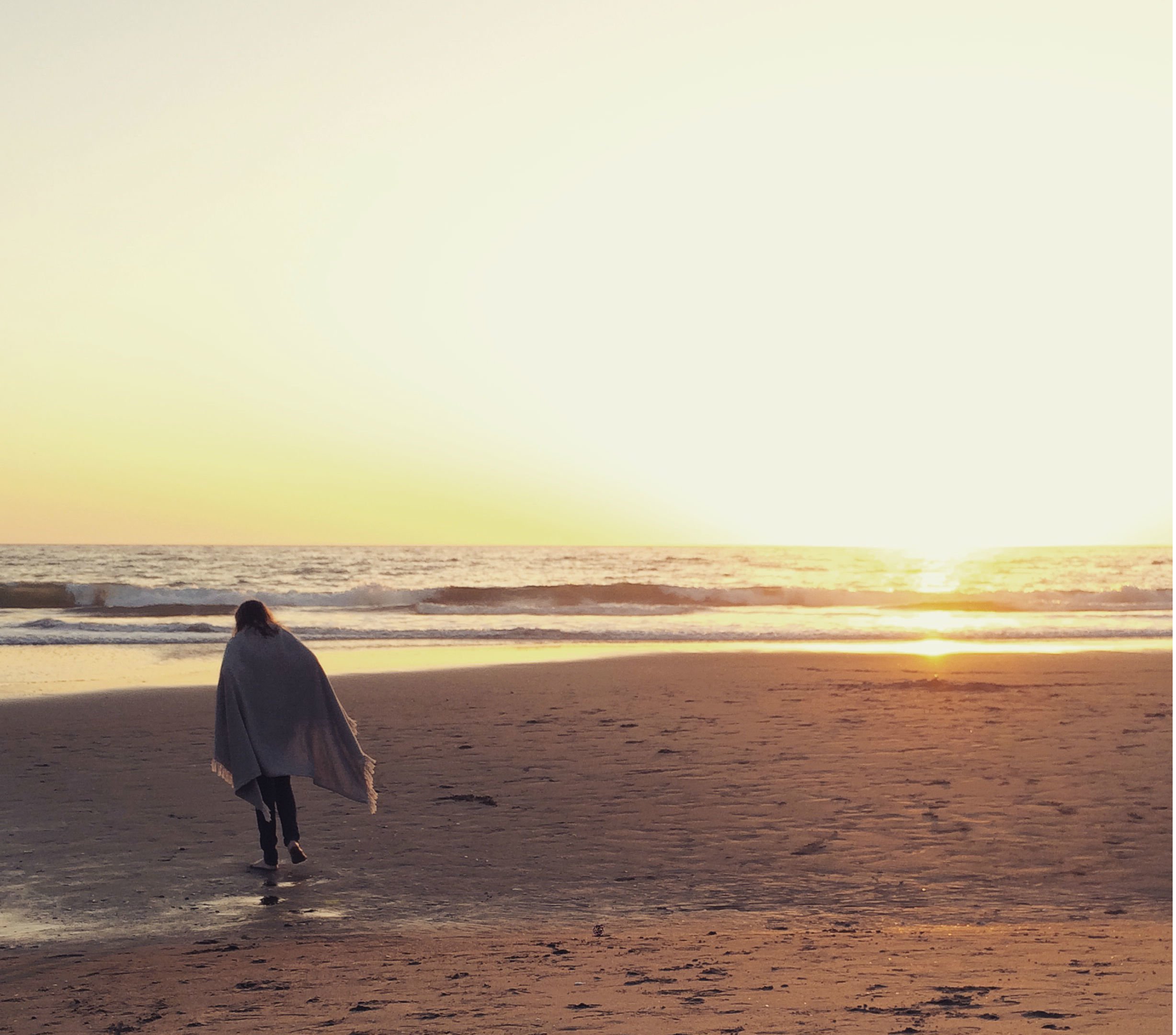 ******
Hey, I don't want to be all alarmist and shit, but these are probably the last sessions I'll be offering of the live Write Anyway writing workshop.
Get on it, friends. I'd love to write with you.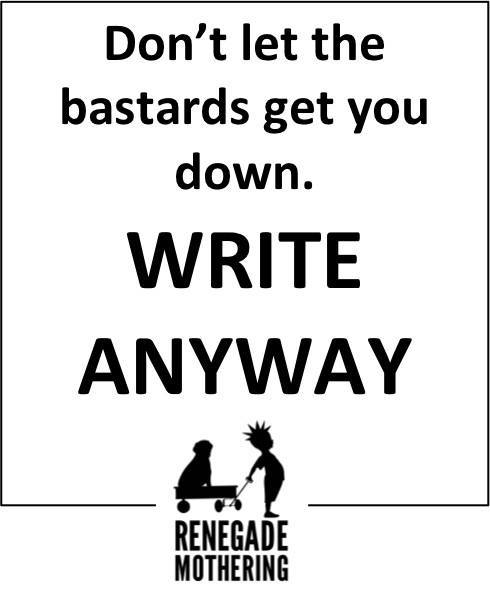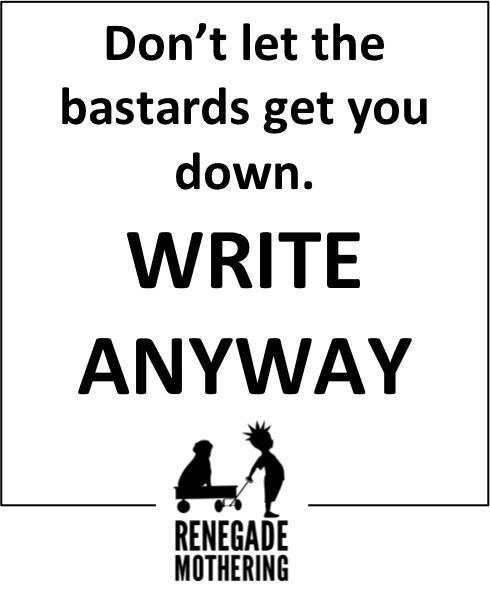 more stuff I shouldn't have said out loud: